Careers in Flight: Flight Instructor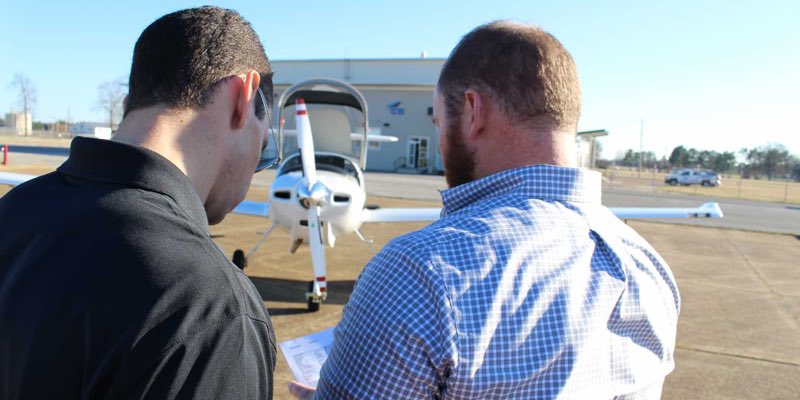 Careers in Flight: Flight Instructor
If you're currently learning to fly with us in Tennessee or Florida, you will have already met our outstanding instructors, and might even know a little about their daily work.  But have you ever considered becoming a flight instructor yourself? 
Flight instruction is just one of the exciting careers you can pursue once you've received your pilot's license from CTI Professional Flight Training, and here we tell you everything you need to know about the career.
At this point in time, approximately 57,000 men and women hold flight instructor ratings in the US, but only 12,000 are actively instructing.  This is largely because, for some, instructing is a hobby they do just for fun or as a side job.  However, flight instructors are in high demand right now and experts believe they'll remain so for a good few years to come!
Once you hold your commercial pilot certificate, you can begin taking the steps towards your FAA Certified Flight Instructor Certificate (CFI).
Sit the FAA Written Exam and Fundamentals of Instruction (FOI)
You will need to start by taking two exams: the FOI and the FAA Certified Flight Instructor Knowledge Exam.  The FOI covers the teaching side (e.g. the learning process, effective training techniques), while the Knowledge Exam tests your understanding of everything else you've learned about flying to this point.
Plan your practice flight lessons
Before you can practice instructing, you need to plan! From designing diagrams or buying props that will help you explain a topic, to ensuring everything is covered in the FAA Practical Test Standards, some careful thought will take you a long way.  The good news is that if you plan well here, you can use these plans again and again after you qualify.
Practice instructing with an experienced instructor
This is where you get to 'teach' a pretend student – who is already an experienced instructor – by demonstrating maneuvers and watching them do the same, before giving feedback (you'll need to log at least 15 hours of being in command of a pilot before taking the checkride).  This role-play will continue as you teach on the ground, until you're comfortable teaching every possible topic and scenario. 
Once you're ready, take the checkride with an FAA examiner
You'll already be familiar with checkrides, but the instructor checkride is the toughest of them all! Your examiner will want to know that you are fully prepared to teach new pilots so there's a lot to cover on the ground before you even get in the air.  However, once the examiner is satisfied, they'll sign you off and you'll be a proud holder of your CFI!
If you want, you can also apply for your Instrument (CFII or CFI-I) add-on certificate.  And once you're qualified, you can look forward to sharing your knowledge and expertise with budding pilots as you play a part in their journey to becoming fully qualified!
If you're ready to undertake your FAA Certified Flight Instructor Certificate, apply now and train with CTI-PFT!  Or if you're already a qualified flight instructor and want to find out more about working with us, click here.