Heroes in Flight: Harrison Ford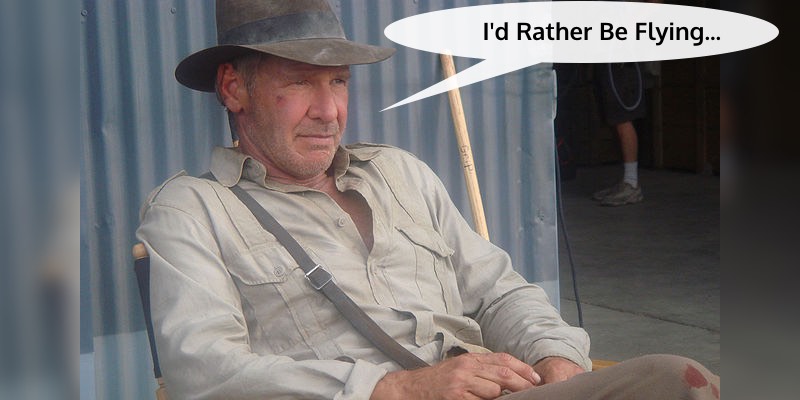 Heroes in Flight: Harrison Ford
You might expect Harrison Ford's name to appear on a list of top Hollywood actors rather than flight heroes.  But let's just say, his adventures aren't confined to onscreen exploits as Indiana Jones or Han Solo; he's also a flying enthusiast and an advocate of aviation!
From fighting for pilots' rights to encouraging new blood through his work with Young Eagles, Harrison Ford has taken his love of flying to the heights, playing an active role in the wider aviation community and advancing all of us within it.
Ford's flight training began in the 1960s.  He took lessons at the Wild Rose Idlewild Airport, WI, learning to fly a Piper PA-22 Tri-Pacer.  However, the $15 an hour fee was too expensive for him at the time, so he had to stop his lessons.  It wasn't until the 1990s that he took up flying again, buying a used Gulfstream II and asking one of his pilots to teach him to fly it.  He went on to build his experience in a Cessna 182, before moving on to soloing in a Cessna 206.
After learning to pilot fixed-wing aircraft, Ford proceeded to pilot helicopters.  Today, he owns a range of aircraft, including a Bell 407 helicopter and – his favorite – a de Havilland Canada DHC-2 Beaver.  First flown in the CIA's Air America operations, it had to be repaired to fix bullet holes that once dotted its side!
On occasion, however, Ford's flying antics have hit the headlines.  In 1999, he was involved in the crash of a Bell 206L4 LongRanger helicopter while on a routine training flight.  Luckily, he and the instructor escaped unhurt, but the same couldn't be said for the helicopter!  Then, in 2015, he had to make an emergency landing in his Ryan PT-22 Recruit when the engine failed.  As the plane landed, Ford broke his ankle and pelvis, but luckily sustained no more damage.
Harrison Ford is not just a flying enthusiast, though – he's done a lot of good for the industry too!  He provides emergency helicopter services from his ranch in Jackson, WY, for Teton Country Search and Rescue, and once helped rescue a hiker who had become lost and disoriented.  In 2004, he became chair of the Young Eagles program of the Experimental Aircraft Association and has flown over 280 Young Eagles, mostly in his DHC-2 Beaver.
Ford has also acted for advocacy groups, including AOPA and GAMA, promoting better conditions for people who love to fly.  This on-screen hero is very much an off-screen hero to all of us!
Would you like to get your pilot's license like Harrison Ford?  Maybe you too can see yourself as a hero of the skies! Why not get in touch to book your first discovery flight?